KIDS' PARTY AT HOME
A stress-free kids' party at home
Would you like to throw a kids' party at your home without the worry and stress of supervising it? Call Confetti! We are happy to arrange a fantastic, truly unforgettable party for children aged 5 and over.
You can choose either a Fun Package or a Magical Party.
With Confetti, as a parent you have your hands free so that you can enjoy the fun, too. You can take lovely photos and you don't have to worry about organising anything. We provide the party, you only have to take care of the drinks and snacks.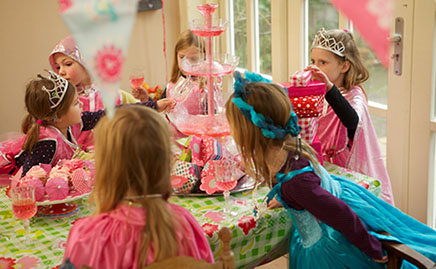 Our Fun Package makes for a unique party! With this package, you choose the party theme and components yourself and decide for how long the children need supervision. This means you are in total control of your party budget. You can choose from the following components:
Sing your throat sore

:

The juice fountain is flowing and

we sing happy birthday with plenty of bells, whistles, and musical instruments before moving on to the present-opening game.

Feast your fill

:
Everyone can decorate their own cupcake with fondant, marzipan and many tasty toppings. The children also make their own cake box so that any leftovers can be taken home!
P

imp your face

:

This component offers a choice of three

themes: fashion show, circus or detectives & heroes. The children paint their own face (and their friends' faces), get dressed up, and are then ready to walk down our red carpet in style! Of course, a great photo opportunity is part of the fun

.
 
 
D

ance yourself dizzy

:

The smoke machine and

disco lights are on and it's time to get dancing. Our dances include the limbo, a funny ball dance and 'Freeeeeze', as well as a top-to-toe game.

Creative crafts

:

Make your robot, lantern or other inventive work of art. We are going to tinker with caps, cans, straws, sticks, feathers, jars and much more craziness!

You can choose from the following crafts: 
– Glass lantern with beautiful colors, tape and beads
– Pencil tin / storage tins with ribbons, feathers, beads, tape
– Wind chimes of tins, beads, ribbons
– Robots of tin with a lot of material
– Dino fossils, make paw prints and dino prints. With a dino bingo after!

The creative crafts are a fixed part of this party. 
Our Fun Package consists of a minimum of three components (2 hours) and a maximum of five components (3 hours). We spend 30 to 40 minutes on each party component. Good to know that the creative crafts are a fixed part of this party. 
This is a whole lot of fun! Together with the children, we sing happy birthday to the accompaniment of lots of instruments and bells. We also play a great present-opening game. Then it's time to dress up as a unicorn, princess or pirate!
Once everyone is dressed up, we can start getting creative. The partygoers can paint a unicorn piggy bank, Aladdin's lamp or a cheerful crab from the sea.
In between, everyone gets a beautiful glitter tattoo on their arm and then the party comes to a close.
A delightful crafts party for boys and girls alike.
Our Magical Party lasts 2 hours

WHAT DOES IT COST?
A stress-free party at home costs €175.
Would you like to add a fourth or fifth component to the Fun Package?
No problem! Each additional component costs €35.
The price for each additional child is €15.