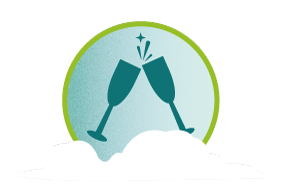 CASTLE MUIDERSLOT
Be transformed into a princess or a knight at Muiderslot!
Since 2007, Confetti has been organizing all kids' parties held at the famous Muiderslot: a beautiful medieval castle just a stone's throw from Amsterdam. Our supervisors have in-depth knowledge of the castle's history which means everyone can learn something from them!
As a parent, you can join in all the fun of the party and take part in the castle tour. Don't forget to bring your camera – you can take spectacular photos on this special day. The party starts with biscuits and drinks in the mysterious castle gate tower or, in winter, the ancient casemate.
Do you want to make your next celebration a unique event? Muiderslot is the place for you!
Knights and Princesses Party
Vanished treasure
The treasure chest of Count Floris V has disappeared and no one knows what's happened to it. Together with their friends, children are rewarded with gemstones and puzzle pieces that help them discover where the treasure is. The assignments are sometimes funny, sometimes a little suspenseful – but always full of fun. Have you found all the gemstones and collected all the pieces of the puzzle? Have you slipped past the dragon? That means it's time for the birthday boy or girl to find the treasure chest and, who knows, maybe even open it.
A party for children aged between 5 and 8.
Secret code
The treasure chest is on a table but you need to crack the secret code to get it open. You can earn letters by completing a series of assignments. But beware…if you get an assignment wrong, a piece is added to the "gallows".
Are you clever, quick and fast enough to get through the assignments and crack the code together?
A party for children aged 9 and over.

What does it cost?
A party for a maximum of 8 children costs €200.
The price for each additional child is €20.
You can make a reservation on www.muiderslot.nl